The urgent need for chronic lower back pain relief
Millions suffer with chronic pain
adults in the US experience chronic pain conditions.1
adults in the US have experienced lower back pain in the last 3 months.2,3
Significant trade-offs with current pain management
Significant trade-offs with current options
Current treatment options, like prescription and over-the-counter medications or invasive treatments like surgery, have associated risks and adverse events, and may be inconvenient to patients while offering suboptimal efficacy.4
Potential for abuse
In 2019, pain relievers were the most commonly misused prescription drug, with 1.4 million people in the US aged ≥12 having prescription pain reliever use disorder.5
Patients need an effective treatment they can stay with that provides sustained relief without significant side effects4
Barriers to behavioral pain treatment
Behavioral treatments can address some of these limitations, but require significant patient commitment, carry associated stigma, or are simply out of reach for those who need them most.4
Emerging solutions like virtual reality have been shown to overcome these limitations
The proven impact of VR
A new frontier in pain management
Over 2000 studies and 30 years of research have shown immersive virtual reality (VR) can significantly reduce pain-related brain activity by simultaneously modulating key areas of the brain related to pain (emotional, cognitive, experiential, behavioral, and sensory).6-8
Immersive VR is clinically proven to engage multiple distinct neurological systems to treat pain7
Adapted from Hoffman HG, Richards TL, Coda B, et al. Neuroreport. 2004;15(8):1245-1248.
RelieVRx—designed to empower patients to manage their chronic pain
The RelieVRx platform provides a fully immersive VR experience that helps patients learn skills that modulate multiple brain systems. Each chapter of interactive VR therapy builds upon the last to induce neuroplasticity, modulating neural regions associated with pain for long-lasting change.4,7,9-11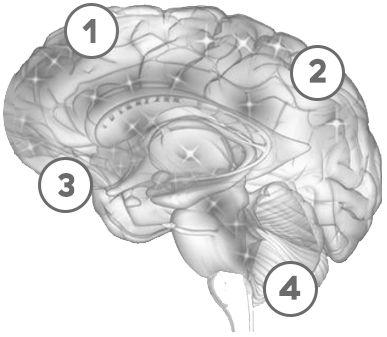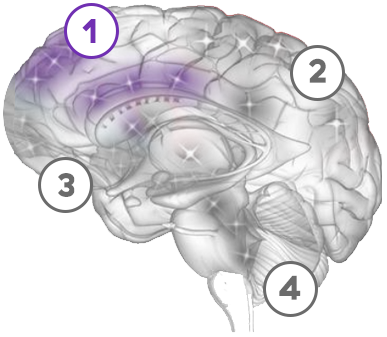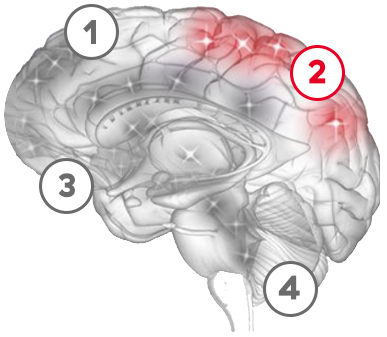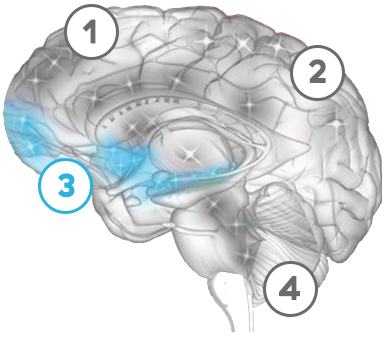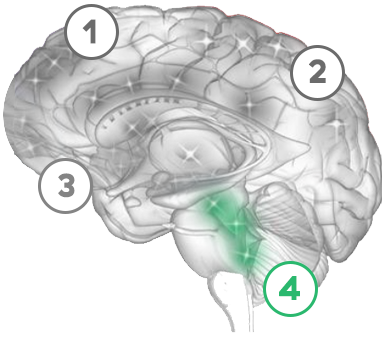 Hover over brain sections to view more information.
A Multicentered Approach
Patients learn lasting skills through a modality known to significantly reduce pain-related activity in 4 pain processing centers of the brain.12,13
Pain Affect/Cognitive Control12,13
• Trains patients to develop executive control of pain
Multisensory/Motor12,13
• Uses multisensory integration to adapt to pain
• Trains the brain to encode new information for processing pain
Emotion/Behavior12,13
• Patients learn to regulate and accept pain-related emotions and create lasting pain-management behaviors
Descending Modulation12,13
• Descending pain pathways are modulated as a result of decreased activity in multiple pain centers
Indication for Use
RelieVRx is a prescription-use immersive virtual reality system intended to provide adjunctive treatment based on cognitive behavioral therapy skills and other evidence-based behavioral methods for patients (age 18 and older) with a diagnosis of chronic lower back-pain (defined as moderate to severe pain lasting longer than three months). The device is intended for in-home use for the reduction of pain and pain interference associated with chronic lower back pain.
Contraindications
There are no known contraindications.
References
Institute of Medicine. Relieving Pain in America: A Blueprint for Transforming Prevention, Care, Education, and Research. Washington, DC: The National Academies Press; 2011.
Price JD, Barbour KE, Liu Y, et al. State-specific prevalence and characteristics of frequent mental distress and history of depression diagnosis among adults with arthritis — United States, 2017. MMWR Morb Mortal Wkly Rep. 2019;68:1173-1196.
United States Census Bureau. Accessed February 17, 2022.
Garcia LM, Birckhead BJ, Krishnamurthy P, et al. An 8-week self-administered at-home behavioral skills-based virtual reality program for chronic low back pain: double-blind, randomized, placebo-controlled trial conducted during COVID-19. J Med Internet Res. 2021;23(2):e26292. doi:10.2196/26292
Substance Abuse and Mental Health Services Administration. Key substance use and mental health indicators in the United States: Results from the 2019 National Survey on Drug Use and Health (HHS Publication No. PEP20-07-01-001, NSDUH Series H-55). Rockville, MD: Center for Behavioral Health Statistics and Quality, Substance Abuse and Mental Health Services Administration; 2020.
Dascal J, Reid M, Ishak WW, et al. Virtual reality and medical inpatients: a systematic review of randomized, controlled trials. Innov Clin Neurosci. 2017;14(1–2):14–21.
Hoffman HG, Richards TL, Coda B, et al. Modulation of thermal pain-related brain activity with virtual reality: evidence from fMRI. Neuroreport. 2004;15(8):1245-1248. doi: 10.1097/01.wnr.0000127826.73576.91
Hoffman HG, Patterson DR, Carrougher GJ, Sharar SR. Effectiveness of virtual reality-based pain control with multiple treatments. Clin J Pain. 2001;17(3):229-235. doi:10.1097/00002508-200109000-00007

RelieVRx [instructions for use]. Van Nuys, CA: AppliedVR, Inc.; 2021.

Bak MS, Park H, Kim SK. Neural plasticity in the brain during neuropathic pain. Biomedicines. 2021;9(6):624. doi: 10.3390/biomedicines9060624
Austin PD, Siddall PJ. Virtual reality for the treatment of neuropathic pain in people with spinal cord injuries: a scoping review. J Spinal Cord Med. 2021;44(1):8-18. doi: 10.1080/10790268.2019.1575554.
Network, C. (2019, September 6). VR enhancing communication in Healthcare.

Tech Trends. Retrieved March 9, 2022, from

Tech Trends
Martucci KT, Mackey SC. Neuroimaging of pain: human evidence and clinical relevance of central nervous system processes and modulation. Anesthesiology. 2018;128(6):1241-1254.
RelieVRx was formerly known as EaseVRx.