Retrain your brain to relieve your chronic lower back pain
The RelieVRx™ program is available for those with VA benefits at no out-of-pocket cost
SEE THE PROOF
Are you one of the many veterans living with chronic lower back pain (CLBP)?
CLBP is the leading cause of disability among veterans1
Talk to your doctor about how you can take control of your CLBP with the RelieVRx program.
The first FDA-authorized VR treatment proven to significantly reduce pain1,2
VR treatment that empowers you to manage your pain from the comfort of your home3
Helps you recognize and adjust your cognitive, emotional, and physical responses to pain8
An easy-to-use, in-home therapy with minimal side effects that can be used with your other treatments4
Guides you through engaging sessions that take an average of 6 minutes a day for 8 weeks4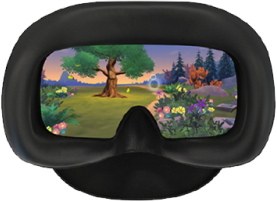 The RelieVRx program demonstrated proven pain relief that lasts6,7
Clinically significant pain relief was seen in an 8-week study vs placebo (Sham VR)6
At 6 months, it continued to deliver clinically meaningful results7
Demonstrated significantly reduced pain intensity and pain‐related interference with activity, mood, sleep, and stress vs Sham VR (P≤0.009)6
LEARN MORE
Get started today—provide these details to your healthcare provider

LEARN MORE
Contract Vehicles
Part # RVX-2001
FSS/GSA Contract # SPE2DE22DA020
FSS Contract # V797D-50450
DAPA Contract # SP0200-16-H-0011
E-CAT # SPE2DE-21–D-0013
Contact Info
customerservice@lovellgov.com
Phone: 850-684-1867
Fax: 850-254-9853
Order online: GSAadvantage.gov
Indication for Use
The RelieVRx program is a prescription-use immersive virtual reality system intended to provide adjunctive treatment based on cognitive behavioral therapy skills and other evidence-based behavioral methods for patients (age 18 and older) with a diagnosis of chronic lower back pain (defined as moderate to severe pain lasting longer than three months). The device is intended for in-home use for the reduction of pain and pain interference associated with chronic lower back pain.
Contraindications
There are no known contraindications.
People using the RelieVRx program may or may not experience motion sickness, dizziness, headache, or eye strain when using the device. If these experiences occur, please stop use of the device and resume therapy per your doctor's advice.
References
Eaton E, Swearingen HR, Zand Vakili A, Jones SR, Greenberg BD. A brief report on an 8-week course of mindfulness-based care for chronic pain in the treatment of veterans with back pain. Med Care. 2020;58(9)(suppl 2):S94-S100.
Kesiena O, Ajavi KV, Rene A, Benden M. Sociodemographic and work-related predictors of chronic lower back pain in the United States: the 2018 National Health Interview Survey data. Public Health. 2021;198:30-34.
Belitskaya-Levy I, Clark JD, Shih MC, Bair MJ. Treatment preferences for chronic low back pain: views of veterans and their providers. J Pain Res. 2021;14:161-171.

RelieVRx User [instructions for use]. Van Nuys, CA: AppliedVR, Inc; 2022.

Park A. FDA gains first approval for a VR system to treat chronic lower back pain. Fierce Biotech. November 17, 2021. Accessed December 9, 2022. https://www.fiercebiotech.com/medtech/appliedvr-nets-fda-s-first-approval-for-a-vr-system-to-treat-chronic-low-back-pain.
Garcia LM, Birkhead BJ, Krishnamurthy P, et al. An 8-week self-administered at-home behaviorial skills-based virtual reality program for chronic low back pain: double-blind, randomized, placebo-controlled trial conducted during COVID-19. J Med Internet Res. 2021;23(2):e26292.
Garcia LM, Birkhead BJ, Krishnamurthy P, et al. Durability of the treatment effects of an 8-week self-administered at-home behaviorial skills-based virtual reality program for chronic low back pain: 6-month follow-up study of a randomized clinical trial. J Med Internet Res. 2022;24(5):e37480.
Hoffman HG, Richards TL, Coda B, et al. Modulation of thermal pain-related brain activity with virtual reality: evidence from fMRI. Neuroreport. 2004;15(8):1245-1248.